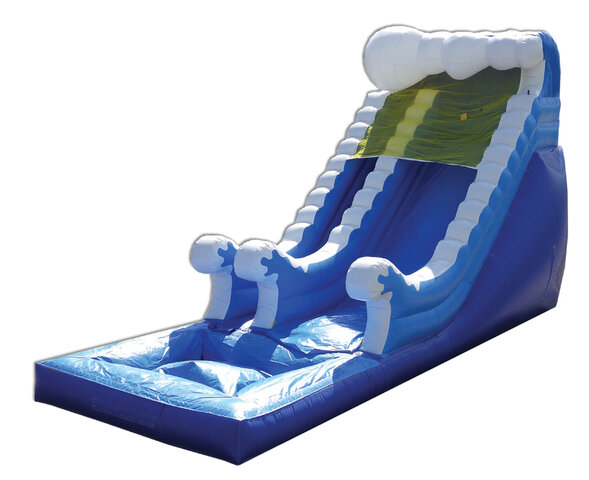 20FT OCEAN WAVE
Actual Size: 33L X 10W X 20H
Setup Area: 37L X 15W X 24H
Outlets: 1
Age Group: 5 - ADULT
Attendants: 1




Introducing the 20FT Ocean Wave, a thrilling and exhilarating water slide that will make a splash at any event or party! This massive inflatable slide stands an impressive 20 feet tall, creating a towering wave that will captivate both kids and adults alike.
Constructed with high-quality materials, the 20FT Ocean Wave ensures durability and safety for all users. Its vibrant colors and attention to detail make it visually stunning, adding a touch of excitement to any water-themed occasion.
Climbing to the top of the 20FT Ocean Wave is an adventure in itself, as participants ascend the ladder, anticipation building with each step. Once at the peak, riders are met with a breathtaking view before embarking on a thrilling descent down the slippery slide.
As riders zoom down the slide, they experience the exhilarating rush of water splashing against their bodies, mimicking the sensation of riding a real ocean wave. The smooth surface of the slide ensures a fast and exciting ride, while the safety features, such as sturdy handrails and a soft landing pad, guarantee a secure and enjoyable experience for everyone.
Perfect for backyard parties, corporate events, or community gatherings, the 20FT Ocean Wave will be the highlight of any water-themed celebration. Its impressive size and eye-catching design make it a crowd favorite, drawing in guests of all ages and creating unforgettable memories.
So, if you're looking to add a splash of excitement to your next event, look no further than the 20FT Ocean Wave. Get ready to ride the wave of fun and create memories that will last a lifetime!